Energy Toolbase unveils new front-end website and product lineup
by Tracy Fosterling on Oct 12, 2020
We're excited to announce that our website has a new look! Our company has undergone some big changes over the last year after merging with Pason Power in September of 2019. Our newly launched front-end website more comprehensively explains our new Model-Control-Monitor product offering. Energy Toolbase has shifted from being known exclusively as an industry-leading sales and modeling platform for solar + storage projects, to providing a more cohesive product suite that also offers energy storage controls software and an asset monitoring platform. Our expanded product line enables solar and storage developers to deploy projects more efficiently and seamlessly and take a project from conception, into operation, and through the end of life. Our new product suite features three separate, but closely interrelated products: ETB Developer, Acumen EMS™, and ETB Monitor.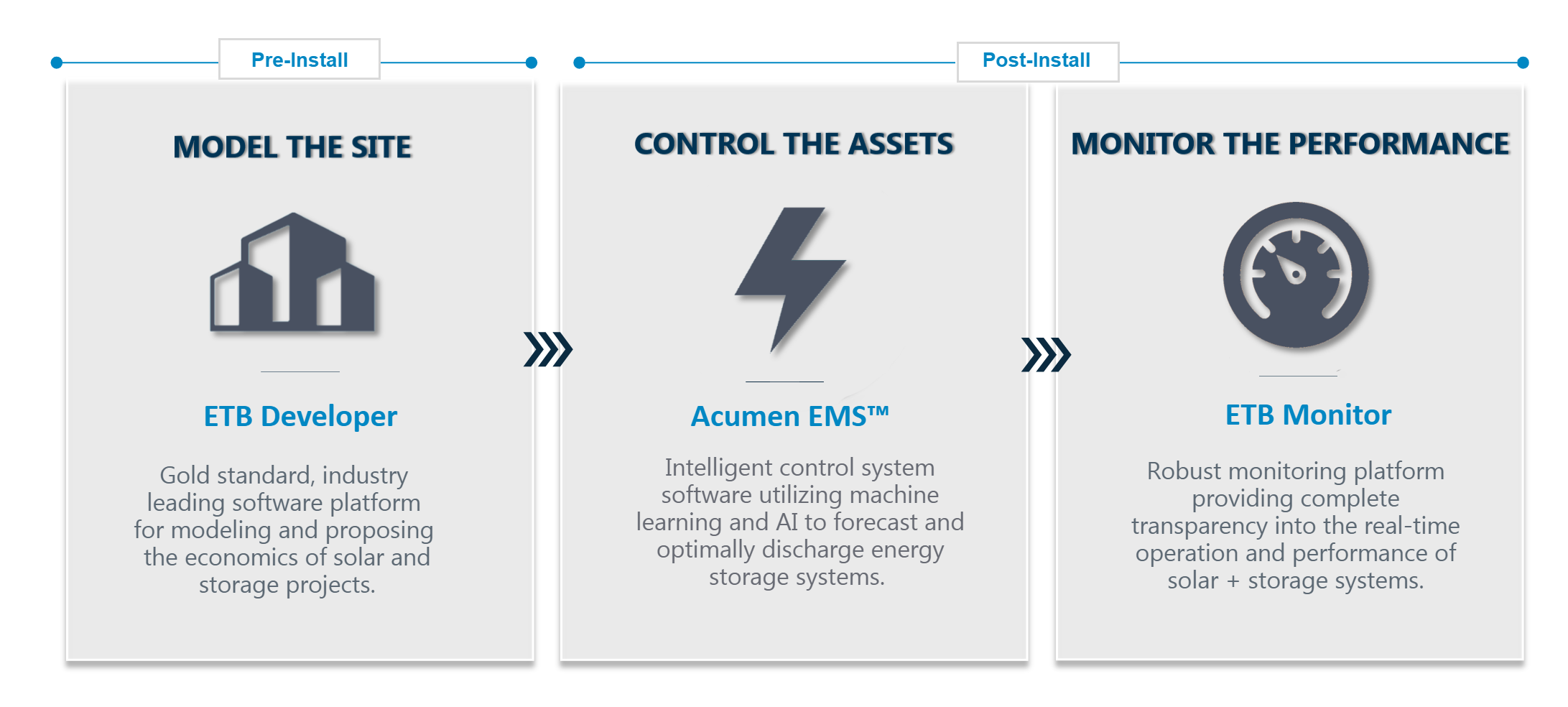 ETB Developer
Energy Toolbase has been widely known throughout the industry as the gold standard platform for financial modeling and utility rate analysis of solar + storage projects. We're as committed as ever to continuing on our mission of accurately, objectively, and transparently modeling the economics of solar + storage projects, we are now just referring to that application asETB Developer. While this update does not include any new feature releases to the backend ETB Developer platform, we do have a big, new release expected to launch soon. The process of logging into the platform will not change, and all of your projects and workflow will be the same.
Acumen EMS™
Our new website debuts the Acumen EMS™ name, which is our newly rebranded Energy Management System and energy storage controls software. TheControl page of our website overviews the technical specifications of Acumen EMS™ and summarizes the value proposition of utilizing Energy Toolbase as your EMS provider. The definition of acumen means "the ability to make good judgments and quick decisions, typically in a particular domain", which we felt perfect represents our EMS's capabilities.
ETB Monitor
ETB Monitor is our robust monitoring software that provides users real-time insights into the performance and savings of their assets operating in the field, which is explained in more detail on ourMonitor page. ETB Monitor is directly connected to our ETB Developer and Acumen EMS™ modeling and controls software, giving users a truly end-to-end product suite. Our end-to-end suite will take your project from pencil out to power on.